The Oswaldo Cruz Foundation is a centennial institution that began on May 25, 1900 and bears its name in recognition of the bacteriologist Oswaldo Cruz, who was responsible for the sanitary reform that eradicated the epidemic of bubonic plague and yellow fever in the city of Rio de Janeiro . Another internationally renowned researcher from this institution was Carlos Chagas, who discovered the protozoan Trypanosoma cruzi (named after his friend Oswaldo Cruz) and the American trypanosomiasis that in his name was known as Chagas disease. This disease is transmitted by insects of the subfamily Triatominae popularly known as barbers. Carlos Chagas was the second director of the Oswaldo Cruz Foundation.
The Foundation is based in 10 states and has an office in Maputo, the capital of Mozambique, in Africa. In addition to the institutes based in Rio de Janeiro, Fiocruz has units in the Northeast, North, Southeast and South regions of Brazil. From its expansion projects, bases were established for the institutionalization of units – offices – in Ceará, Mato Grosso do Sul, Piauí and Rondônia. Altogether, there are 16 technical-scientific units, focused on teaching, research, innovation, assistance, technological development and extension in the field of health. Farmanguinhos and Bio-Manguinhos are two units of FIOCRUZ – Rio de Janeiro responsible for the production of medicines and vaccines, respectively aimed at meeting the demands of national public health.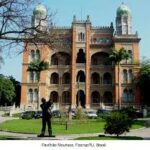 Our research group is located in Farmanguinhos and is currently the largest official pharmaceutical laboratory linked to the Ministry of Health. Farmanguinhos produces more than one billion medicines per year for the Federal Government's strategic programs, in addition to meeting emergency demands in Brazil and abroad.
Articles
Authors: Pinheiro, A. C.; De Souza, M. V. N. Source: Rsc Medicinal Chemistry, v. 13, p. 1029-1043, 2022 Publisher: Royal Society of Chemistry Abstract Leishmaniasis
Saiba Mais »
Articles
Authors: Silva, D.; Lopes, M. V. C.; Petrovski, 'E.; Santos, M. M.; Santos, J. P.; Yamada-Ogatta, S. F.; Bispo, M. L. F.; De Souza, M.
Saiba Mais »
Articles
Authors: Alves, M. S. D.; Sena-Lopes, Â.; Das Neves, R. N.; Casaril, A. M.; Domingues, M.; Birmann, P. T.; Da Silva, E. T.; De Souza,
Saiba Mais »